We shall be creating ACCORDIAN MINI ALBUMS .  Size will be 5"x5"  with inside pages of 4 1/2" x 4 1/2" .   Covers need to be created with Chipboard bases and covered with coordinating cardstock.  There needs to be some type of CLOSURE for the album - either a ribbon tie, Belly band, Magnetic flaps, or whatever you want to make.
You will check with your partner to see what theme she would like -   Family, Babies, Weddings, Memories, Friendship, Party , Vacations, etc...
Embellishments are required, but please do not embellish so heavily that the album cannot be closed properly or carried easily.
Choices of papers and embellishments are all up to the creator !!  
I would like them to be completed by February 28th and I will give you a few extra days to mail them out if you need it...no later than March 7th... but try to get done on time.  



Once we get everyone signed up, I will assign partners  by February 2nd.  


MEMBER LIST :
1. Barb & Lynn
2. Carol & Laurie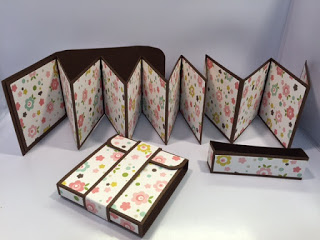 Last edited by AdminBarb on Sat Feb 02, 2019 9:38 pm; edited 5 times in total (Reason for editing : adding members)