I planned to take photos with this tutorial so you could see things as we go along. Here is the first step in the prep work though. Please do not insert comments on the Tutorial THread...

thank you !
You need the following items :
Hot Glue Gun & sticks
Other adhesives of choice
Ruler
Scissors
Hole puncher (Crop - a Dile is best or something heavy duty)
Foam dots / tape
paper trimmer
BLack pen
Your 6x6 paper pad
Key Rings
Frame
Assorted ribbons, twine, buttons, other embellies that you want to use.
Last edited by AdminBarb on Tue Dec 27, 2016 10:41 pm; edited 1 time in total
STEP ONE :  
      Select 12 pages from your paper pad - Most pads have 3 each of 12 designs, so they should all be different.
      Cut each page to 3.5" wide and 5" tall .
      INK ALL THE EDGES OF THE PAGES PLEASE !! Use a color of ink that complements your images... it does not necessarily have to be brown or black. Colors are nice to use.

     Next -  Repeat Step One so that you have 24 pages cut out ...  

Next - Glue 2 pages together to make one nice thick page. You may choose to match up the design - (same design on front and back) or mix them up like I have done.              
    Be sure to SAVE ALL YOUR CUT OUT PIECES... you will use them to make backgrounds and pockets and other embellishments like flags and flowers... this helps to coordinate your design.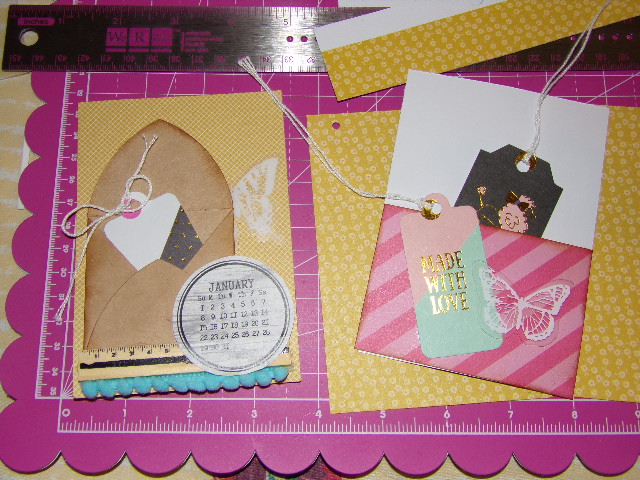 Last edited by AdminBarb on Fri Dec 30, 2016 7:55 pm; edited 3 times in total
STEP TWO :   Decide which Calendar you would like to use.  I have included the Docrafts rectangular Mini calendar in your kit.  But if you would like to use this ROUND calendar, you may also use it.
Here is a link to the MAYA ROAD MINI CALENDAR FREEBIE --   Print and cut them.
https://mayaroad.com/blogs/news/2016-calendar-download-freebie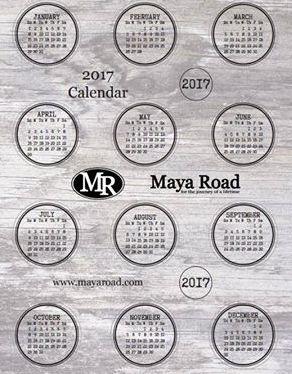 After you have your pages cut out and inked, you will need to punch holes for hanging your pages.
Measure carefully - Turn over one of your pages so that you see the white side .
Use a ruler and measure from the top 1/4 " (0.25") down and draw a line.
Measure in from each side 1 /2" ( 0.50") and draw a line.
Where those 2 lines intersect, draw a circle so you can see it clearly and punch a hole at each circle.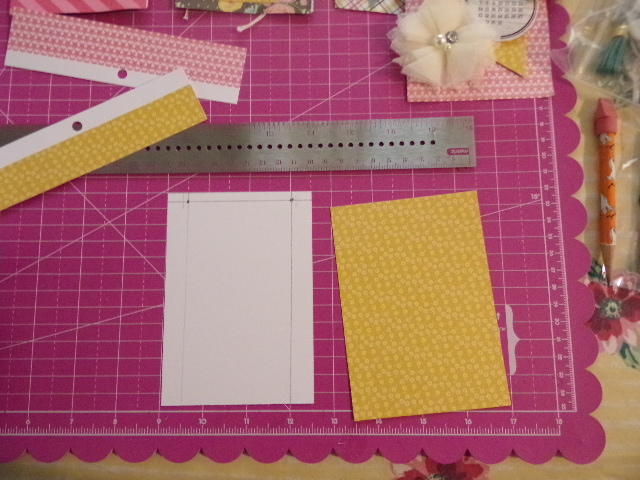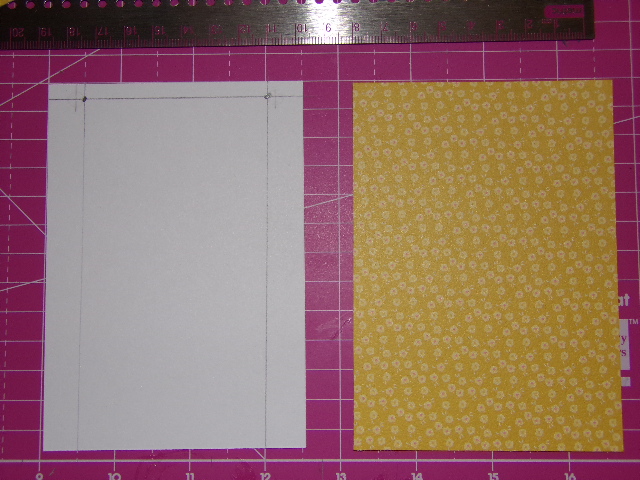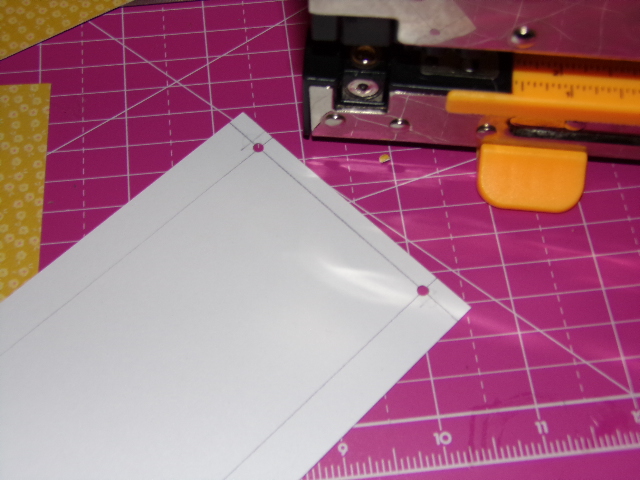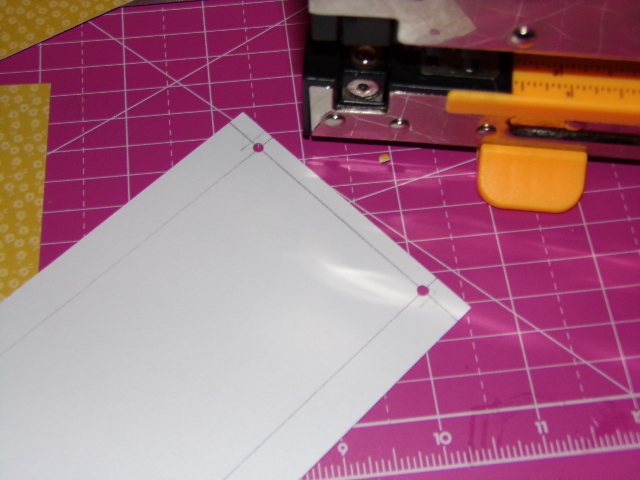 Now - Use your first punched page as a TEMPLATE , and carefully punch holes in all of your pages to match these holes.  

You can use any hole puncher that you have available... but the great thing about using the CROP-A-DILE is that it will punch several pages all at once for you...this is a very sturdy puncher... Cuts down on time and errors.

You could also make a more permanent TEMPLATE by cutting a piece of chipboard to the same dimensions and punching holes in it. Then you can use it repeatedly and it will hold up for quite a while...  Make lots of calendars for NEXT YEAR's Christmas gifts !


Next, I will show you some ideas and methods about assembling your pages.
Each page will be finished on the front and on the back.  The back can be as plain or fancy as you like...but it is better that one side is "flatter" than the other side so your calendar wont be toooooo bulky and will hang nicely on the holder.
I am showing you here a few pages I have done and a few that are not finished. You can see how I have utilized some of the pieces I cut from the edges of the papers used for pages.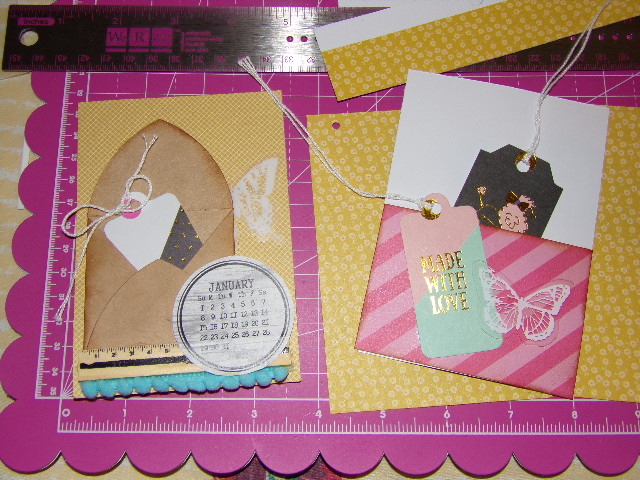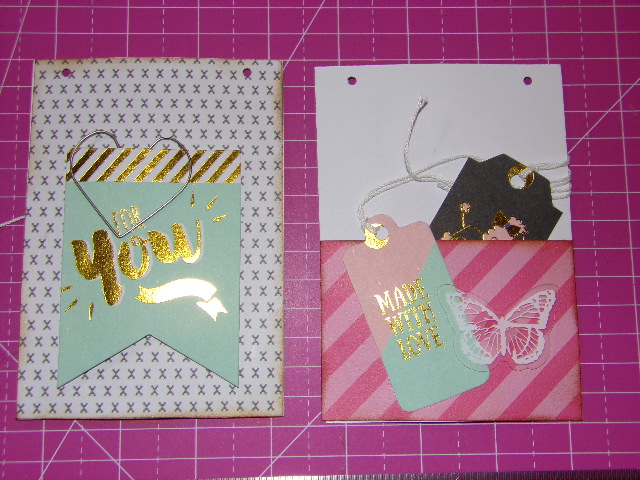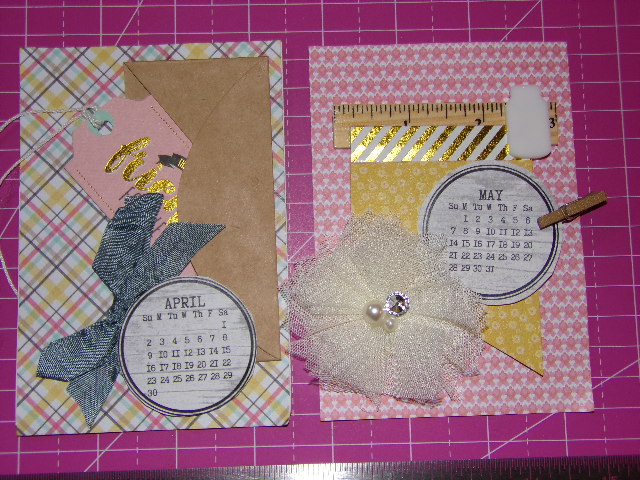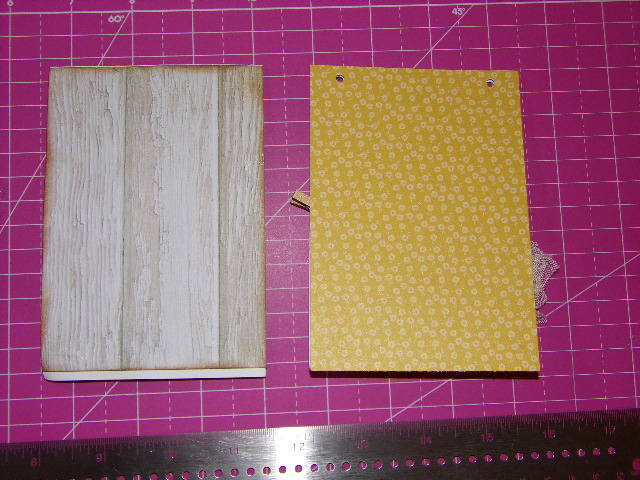 Now - I want you to be careful when you select the location of your mini calendar - whether you use the round ones from Maya Road, or the little rectangles from DoCrafts, you should only apply them with a single Foam Dot, or a little bit of adhesive in the center. This way , the calendar can be removed and easily replaced with a 2018 Calendar next January !!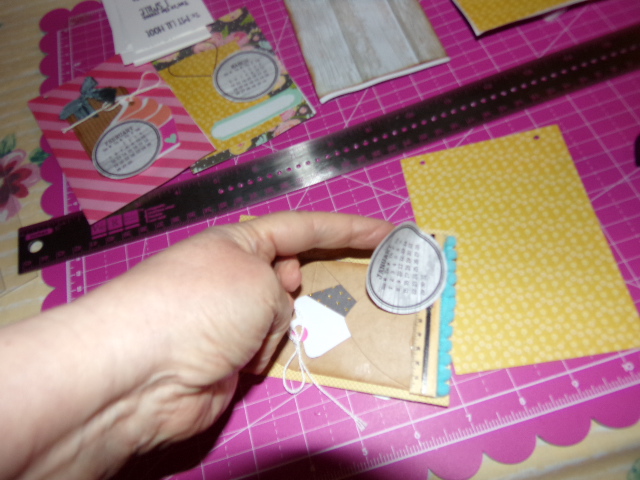 A lot of the bits and embellies you see on my pictures are left-overs from Heidi Swapp embellishments I had. This is not the calendar I will be swapping for this project. I will be using a different design for my partnered swap. It will be a surprise ! I would like for all of you to make something that is decorative and fun , and expresses your artistic nature. You can paint or color, or stencil on your pages...whatever you want to do ! Use the patterns of your paper for inspiration. You will have enough paper left over to make some cards or other projects too - I hope you will enjoy this.
If you have any questions, please feel free to ask. I know I have probably forgotten to tell you something.






Similar topics
---
Permissions in this forum:
You
cannot
reply to topics in this forum